You love writing. You also love making foods and new recipes. People keep telling you to share your knowledge and make a blog. Or maybe, you want to get some money by sharing and selling your products. All of those reasons make you want to start a blog. Unfortunately, you don't really know how and where to start.
Don't worry! We will tell you how to start a blog by following our step by step below.
How to Start a Food Blog in 2023 – Easy Tutorial
-Pick Your Niche
-Pick Domain and Hosting
-Install WordPress
-Choose Themes – Make It Beauty
-Install Plugin
-Get Traffic
Disclaimer: Please note that some of the links below are affiliate links and I will earn a commission if you make a purchase through those links. We have used some of the products and do research for the products listed below and recommend them because they are good, helpful and are companies that trusted.
Pick Your Niche and Keyword
The first thing to do is to choose the niche. Choosing your niche and keyword is important. It will help you to always be on track and will get more authority and trust from your reader.
It would be good if you just pick one or several niches for your blog, and it would be better if you love and know a lot about the niche. For example, your niche is kitchen and the articles are focusing on recipes or cookware reviews.
Pick Domain and Hosting
The next step how to start a food blog is to pick your domain and hosting. This is the main part to make a website or blog. You should think about it carefully because a good domain and hosting service will lead you to the right path of blogging and making money.
For the domain name, you can check godaddy.com or namecheap.com. Both have numerous services and good reviews from many users. Hosting services (like Bluehost) usually give a free domain name for the first year. This surely gives an extra if you want to press down the cost.
Choosing a hosting service is a crucial part if you don't want to get into a lot of trouble (long downtime, bad service, etc) we recommend you to use bluehost.com.
Why Choose Bluehost and How to Register
Before you choose a hosting service, make sure it has these things on the list.
Tips for Choosing a Hosting:
24 Hours Services Support (phone call, chat, or support ticket)
It is a Big and Established Company
Offer Unlimited Bandwidth
Unlimited Email dan Add-on Domain
More than 99% Uptime
Good Navigation
That's the few things you should consider in choosing web hosting. Those things are what make us drop the option to Bluehost.com.
How to Register
Bluehost.com is one of the site hosting providers that we use today. Bluehost is arguably the first hosting service that we use until today. And we are very satisfied with the services provided by them.
Standard service:
Unlimited Hosting
Unlimited Domain
3000 Mb disk space
Money-back Guarantee
Email unlimited
CPanel
More details can be found HERE.
Here is how to register on the Bluehost web hosting service. In here, we will use Basic shared hosting services. Shared hosting services mean that we use one server together with other users. The difference between the Basic package, standard, or advance is only on the number of its disk capacity and bandwidth.
1. Open Bluehost website or click Here
2. Click the signup button at the red circle.
3. There are three options here. If you want to start small with just one site, choose starter pack for just $3.95 per month. However, if you think to add a new website in the future with more advantages, choose plus pack. Our recommendation is to choose the starter pack because you can upgrade your account later.
4. In this section, there are two options. The first option is if you want to register the domain in Bluehost (free). The second option is if you already have a domain from other places and only want to purchase a hosting service.
Then click Continue
5. Furthermore, in the billing cycle menu, you can choose to use 6 months, 12 months, or 24 months hosting.
6. The last is to fill in the data of yourself. Then select the method of payment. There are two options at this time. Paypal and Credit Card. Then click Next.
Bluehost.com starting at only $3.49 per month (this low price is only through our link) for blog hosting. In addition to the low pricing, you will receive a free domain name (a $13 value) through our Bluehost link if you purchase at least 12 months of blog hosting. This is essential if you want to monetize your blog as you will appear more professional and this will help you monetize your blog tremendously. 
Installing WordPress
Why Use WordPress?
WordPress is one of the most popular CMS (Content Management Systems) in the world. In 2014, it was reported that every 1 of 6 websites is using WordPress. It's super easy and fun to use. It's also very easy to install on your website.
The large sum of WordPress plugin and tutorials make this CMS very popular to use. One of the things that make WordPress so popular is because of the easy navigation, many plugins for SEO, and many technical tutorials.
Install WordPress to Your Blog
1. Go to your Bluehost account or Cpanel and click the Softaculous/website builder Icon.
2. Click WordPress icon and click install.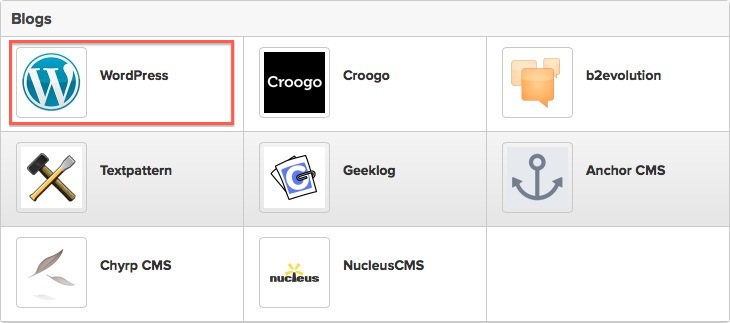 Choose Template – Make It Pretty
There are plenty of themes you can choose for your blog, either free or paid theme.
You can see here for many free themes available.
A very clean and good theme will make your blog more beautiful
Add Plugin 
After installing WordPress, there are some important plugins that you should add to your blog. Some of those plugins will add a great impact to your website.
All in One Seo Pack/ WordPress Seo by Yoast (SEO for WordPress)
Theme Security (Secure your blog in one click)
With the plugins above, your blog will be more powerful and comfortable to use.
Get Traffic – Basic Source
The last thing to do how to start a food blog is to get traffic. There are many sources you can choose to get traffic. You can promote your site on social media and large forums. You can also get traffic from search engines like google, yahoo, and bing.
Traffic Source:
Google
Twitter
Facebook Fanpage
Pinterest
Google Plus
Reddit
StumbleUpon
That's all our step by step of how to start a food blog if you want to make a blog by yourself. Ask us if you need any help or question.