There are many cheap convection ovens products available on the market nowadays. But that wide and vast range of choices often leaves the buyer speechless because they don't know which one should be chosen. All of that confusion is because there are many convection oven products which have similar features but extremely different price.
The common dilemma for the buyer is a certain prejudice which dictates that the cheap stuff easily breaks and the expensive stuff don't. Because of that, I will explain some of the best convection ovens in 2021 with affordable prices below to prevent further confusion parade.
Top 7 Cheap Convection Ovens in 2021
1. Breville BOV800XL Smart Oven
One of the best cheap convection ovens that you should think about is Breville BOV800XL. It is one of the best choices of convection oven right now. This oven has 1800 watt convection toaster oven which can cook and heat any kind of food quickly due to the high output power. This oven also has a 0.8-cubic-foot nonstick interior which can cook a fair amount of food and the grease of the food will not stick on the surface of the oven.
This oven has Element IQ technology for smarter control over the heat with its 9 pre-set button which can automatically cook different food. This convection oven is easy to clean because the grease of the food won't stick on the oven surface.
Pros:
Large capacity for baking any kind of foods

Equipped with 'Element IQ technology'

9 pre-set functions

5 quartz heating elements

User-friendly control panel + LCD screen

Auto-eject wire rack

Included with a pizza pan, baking pan, and broil rack
Cons:
Limited warranty
The cord is a little short (less than 3 feet)
2. Cuisinart TOB-135 Deluxe
The second of the cheap convection ovens is TOB-135 from Cuisinart. This oven is also included as one of many cheap convection ovens with high quality. It is one of many Cuisinart products which made its success throughout oven business. This oven has spacious 0.6 cubic foot capacity which can fit up to 6 slices of bread or a 12-inch pizza. With this width, we can easily cook an entire portion of breakfast without breaking a sweat in the morning.
This convection oven has convection fan which cooks food faster and more evenly than the ordinary heating system. This 150 dollars worth convection oven has non-stick insides to prevent any grease that stick too much inside the oven.
Pros:
Spacious with large capacity
easy to use with the led panel and on/off button

convection fan used for faster and more evenly in cooking

fast pre-heat with a ready signal
included with a baking tray, broiling rack, and recipe book
Cons:
The lettering on the controls rubbed off easily
3. Oster TSSTTVSK01 Convection Oven
This cheap Oster convection oven is one of the best choices of many products of convection oven available in the market. This oven has a high output power to make sure the heating and cooking process becomes faster and then it can cool down right away when it stops. This oven also has easy to use adjustment dial buttons which can control its cooking modes in one push only.
This oven also has a 60-minute timer system with alarm and automatic shut-off system to prevent any damage done. This convection oven is pretty durable because it made from steel and other metal alloys.
Pros:
It uses convection technology to provide faster and more even cooking
Removable crumb tray to accommodate a wide variety of foods, and also for easy cleanup
Toast, Pizza, Bake, Broil, and Defrost settings
Exceptional design with large capacity
Cons:
The handle is quite hot, especially if you cook for a long time with high temperature
The writing around the knob is too small
4. Black & Decker CTO6335S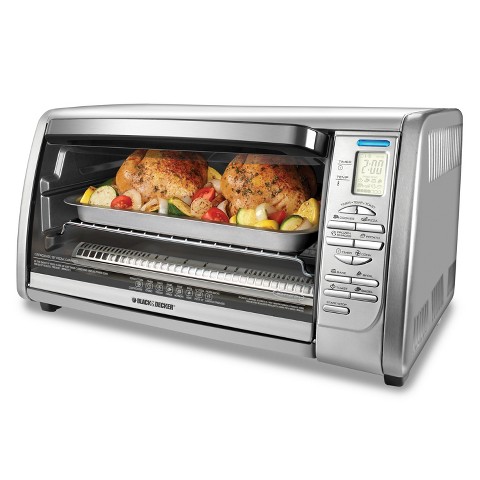 The other cheap convection ovens of 2021 is Black & Decker CTO6335S. It has an extra large digital display to maximize the food monitoring. It has some logos depend on the series or when it made. This oven also has a preset one-touch function where it can control many cooking modes just in one push of a button. This oven also has a big capacity which can fit 12 inches pizza and a large casserole. This convection oven will be the perfect addition to your kitchen.
Pros:
convection fan for better air circulation and make the heat even
it has a digital panel with the easy instruction buttons
timer setting up to 120-minute
12-inch in capacity
Removable crumb tray for easy cleanup and accommodate a wide variety of foods like chicken or pizza
very cheap price
Cons:
The LCD panel is a bit small, especially the icons that quite hard to see
5. Hamilton Beach 31103A
This convection oven is one of the most popular Hamilton Beach convection ovens which has many interesting features. This oven has extra large capacity fits two 12 inch pizzas, two 9 inch casseroles or two pancakes.
This one of the best cheap convection ovens also have two cooking racks, two baking pans, broiler rack and rotisserie accessories to maximize its oven function. This cheap convection oven also has a convection setting which could bakes faster and more evenly than a traditional oven.
Pros:
It has maximum versatility – including rotisserie

Large capacity, you can cook up to 2 pizzas at one time

Convection setting can bake faster and more evenly than a traditional oven

Bake & broil settings with 2-hour timer
Cons:
The stainless material is just for the inside of the oven
Limited warranty, make sure you buy from reliable sellers to get the warranty
6. Breville BOV845BSS Smart Oven Pro
With only $270, this product has element IQ feature that allows the oven to change its heating based on the parts of the food that need the most heat. It also has ten different pre-set cooking which gives you more options to finish your cooking jobs. Supported by a spacious interior, this oven is able to bake a 13-inch pizza.
Pros:
10 pre-set cooking functions

There is an interior oven light to easily check on your cooking

Large capacity
Easy to clean with n

on-stick cavity coating

Durable and long-lasting product
Cons:
A bit complicated to use, you must read the manual instruction carefully
A little more expensive than the other ovens on the list
7. Cuisinart TOB-260N1 Chef's Convection
If you are looking for a convection oven that will cook your food faster, this product is your answer. It is due to its superheats feature that allows you to use the oven without having to preheat beforehand. With all of these features, it is only priced less than 200 dollars, which is surely a good choice for your home.
Pros:
15 cooking functions, including speed convection and dual cook

Large capacity, fit for 13-inch pizza

Interior light

3 years warranty
Good and quick result
Cons:
The letters on the button didn't last long and less durable
Honorable Mentions
These convection ovens also provide a bunch of features and as the title says, these ovens below have affordable prices.
KitchenAid KC0273SS Bake Oven: this product offers simplicity and user-friendly design. It is also equipped with nine different functions. It is also easy to be cleaned due to its non-stick interior. It is also relatively cheap compared to its competitor, with only $200.
Waring Pro TC0650 Convection Toaster: this oven is the most suitable for those who live alone or rarely cook. This oven allows you to cook without resorting to the main oven. It is also very cheap, with only $100.
That all for the list of the cheap convection ovens of 2021. Not only has cheap prices, those five ovens have so many features for us. Do you agree with the list? Please tell your opinion in the comment section below.